7 unique trends in bathroom remodeling in Orange County
7 unique trends in bathroom remodeling in Orange County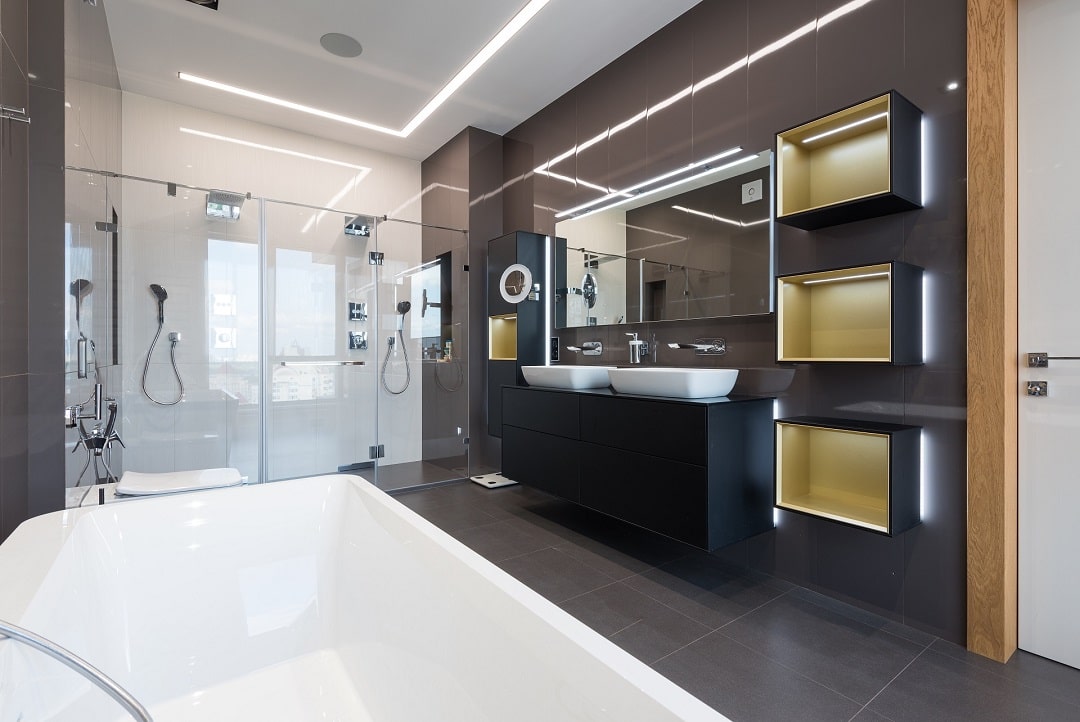 Bathroom remodeling is one of the essential works that any homeowner should consider. If you consider renovating and rebuilding your bathroom, this list will spark some creativity.
From chic and modern to industrial and vintage, whatever your style may be, 2022 is your year for the bathroom remodeling. Our designers and experts offer a variety of ideas that can help make your bathroom more beautiful and can be adjusted to any budget.
Based in Orange County, Unique Kitchen & Baths is honored to provide you with bathroom and kitchen remodeling services. Our specialist in Unique Kitchen & Baths can help you select The best among all bathroom renovation trends.
1. Bathtub and toilet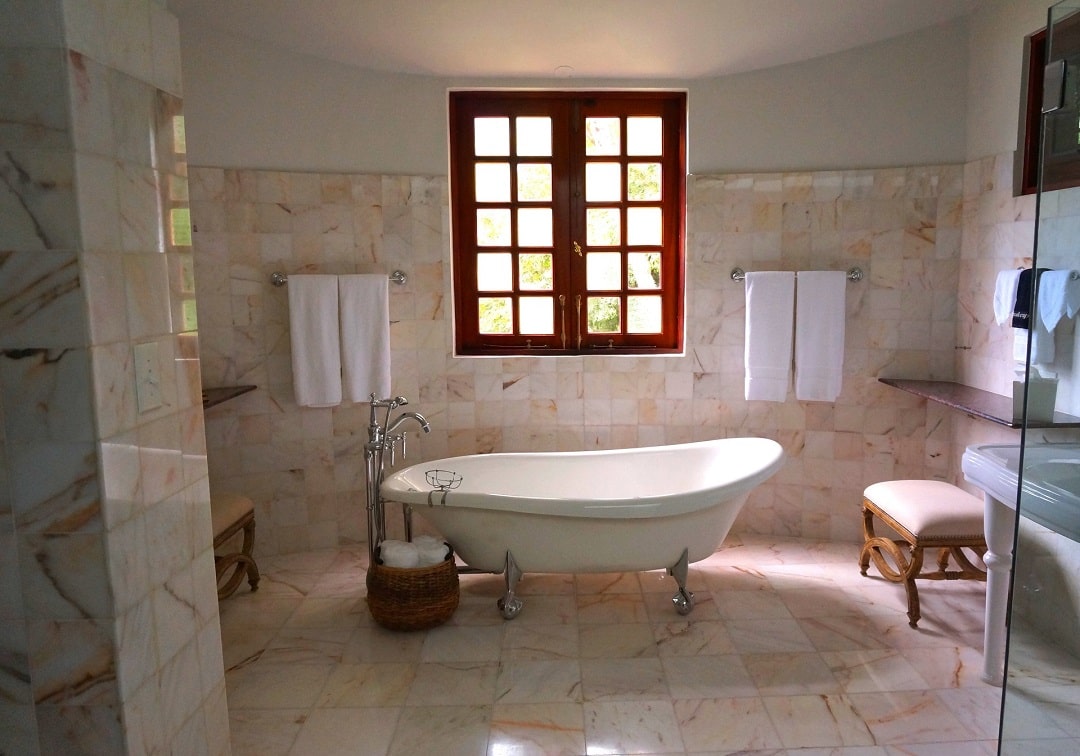 Bathtubs are available in different shapes, sizes, and styles. They have a unique, elegant, and excellent appearance. Ideal design for interior decoration and choosing a bathtub are essential in all bathrooms. Every day, various new stylish models are offered to the market in different designs and colors, world-famous and produced by world-renowned brands. These products have high-quality materials due to remarkable changes in structure and stylish shapes. They can create an excellent charm for your bathroom decoration and give it a fantastic effect.
2. Bathroom mirrors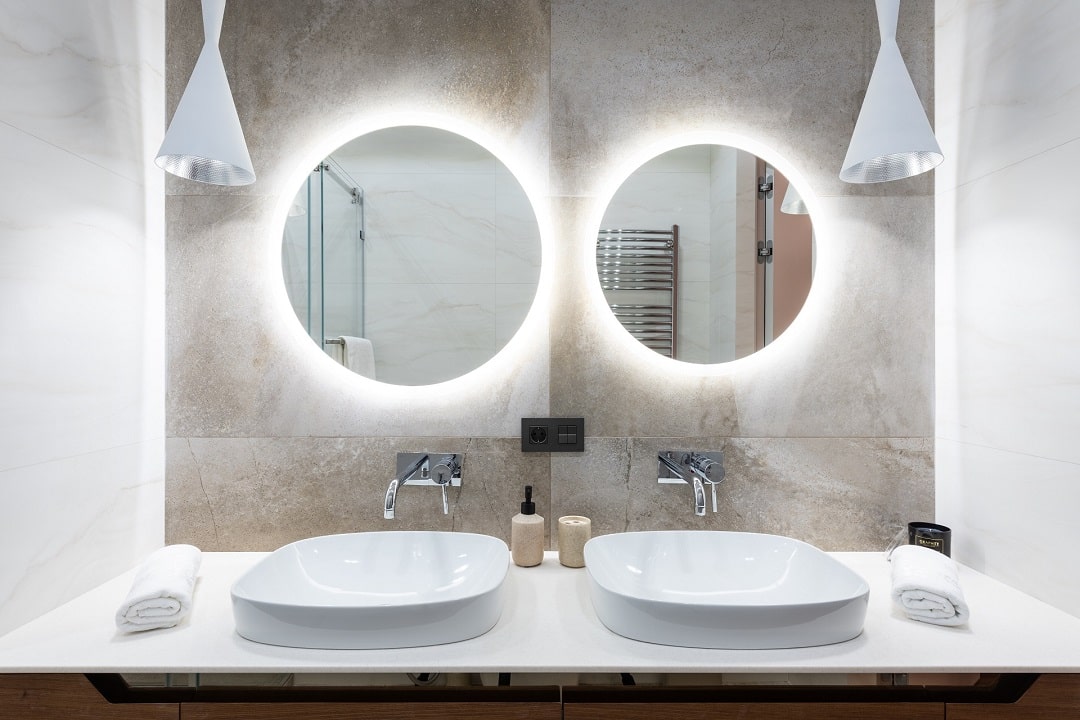 Mirrors are a big part of bathroom renovation. They create a pleasant atmosphere in the interior decoration and give a unique beauty to the space. You can also use mirrors in even small bathroom remodeling to make it appear larger because these decorative and functional objects reflect a lot of light and increase the visual visibility of the bathroom.
Anti-fog mirrors are bathroom bases, and they are available as small, round, square, and asymmetrical models. The new mirrors are equipped with lights that increase the ambient light in the bathroom and toilet. In addition to their use, mirrors in health services also make the environment appear vaster. Mirrors also multiply the beauty of the interior of any place by reflecting the beautiful light. Currently, anti-vapor mirrors with asymmetrical shapes are among the most popular trends in bathroom renovation.
3. Combining two colors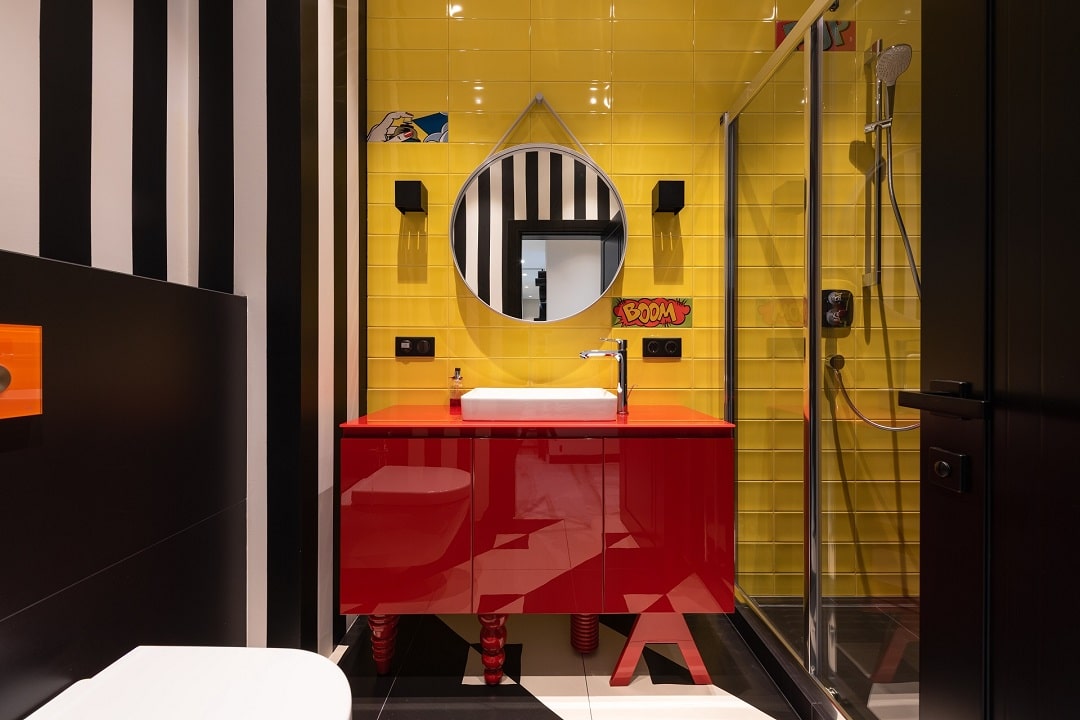 designers usually use a combination of two colors to avoid crowded spaces in minimal design. The combination of white and black are among the colors that complement each other and create a different atmosphere. Since the green plants can soften the seriousness of black, we recommend you to use natural plants in this space. Also, light and neutral colors are suitable for painting walls. Another bathroom remodeling trend is dark blue, ideal for all types of bathrooms and toilets. Contrary to popular belief, this color will not make your bathroom small, so do not be afraid to use dark blue for small spaces. Designers advise using this color in areas with more natural light.
4. Choose a color combination for ceramic tiles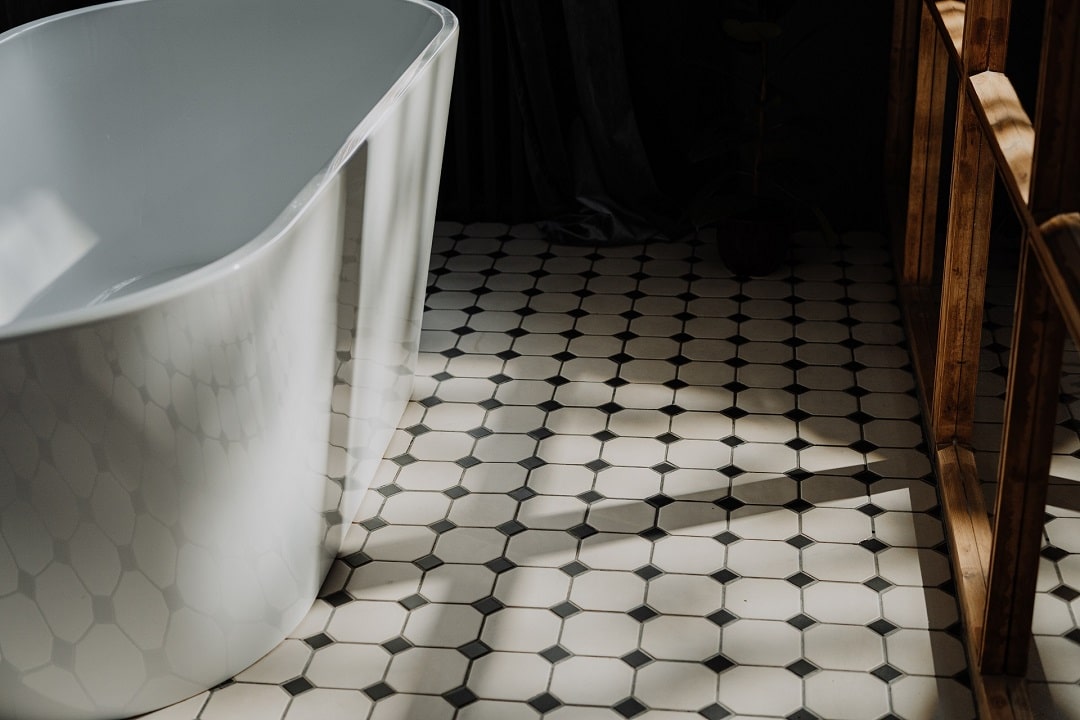 Minimalist designs have created a stylish and contemporary atmosphere in modern interior decoration. In the minimalist style decoration, the fewer colors and tools used for the bathroom and toilet interior, the more luxurious and inviting a space we will see. For example, when choosing a bathroom ceramic model, it is better to choose monochromatic tiles or ceramics with only narrow streaks of another color. You can even use two simple designs with ceramic stripes if you wish.
5. Use shelves in bathroom decoration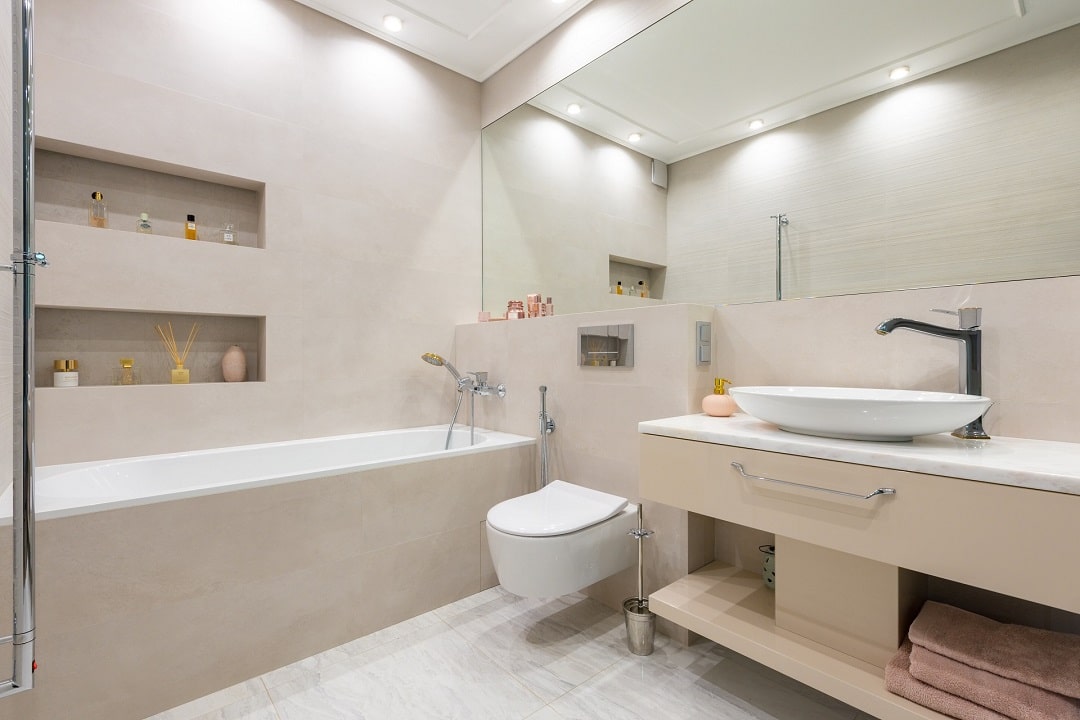 Sometimes it is unnecessary to spend much money to organize the bathroom space effectively, and you can achieve your goals only by doing creative and clever ideas. These days, the lack of space is the biggest challenge in bathroom remodeling because there is not enough space to store and place all the accessories such as cabinets, bathtubs, toilets, and so on. and that's The issue that will lead to clutter and disorder. Storage and the skill of arranging cosmetics, bath towels, and other essential bathroom items is one of the golden rules of bathroom design and universal principles.
6. Use tiles and stones with large frames
The frame tiles and stones mean that the tiles and stones' central surface is marked between an edge of lines. The matching lines of stone and tile are filled with cement slurry or unique material and recent bathroom remodeling trends. The central surface of the tiles and stones in this year's trend is more significant than usual, making the facade much more beautiful.
7. Matte black frames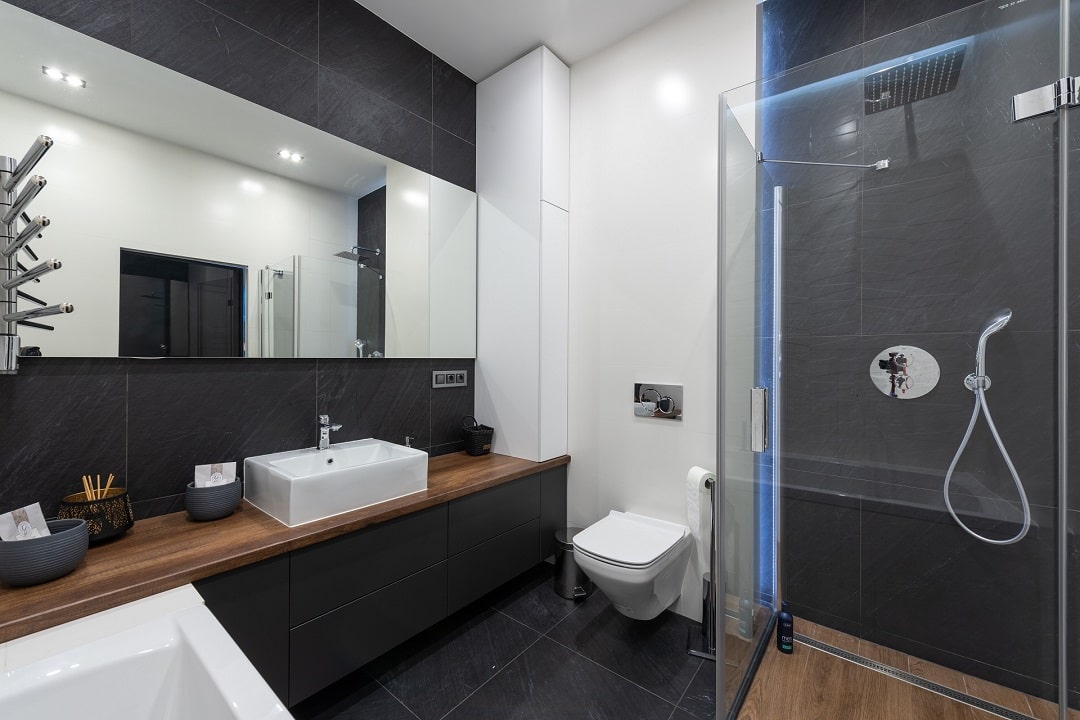 In general, black frames around the shower cabin, doors, and windows give a very different look to the decoration of your space. Remember that using black surfaces in bathroom decoration can create a natural and good feeling in the bathroom and toilet environment. As you can see in the picture above, the designer used a black frame around the shower enclosure and was able to turn it into the focal point of the bathroom. The Cabinet panel and black valves with a white mirror frame on the top of the wall cabinet have created an attractive contrast.
If you consider all the main points in the bathroom and toilet design, black bathrooms can put you in a unique and beautiful space. It is better to use black color in your bathroom and combine it with glossy white. This contrast is magical, lovely, and never goes out of style.
In conclusion:
In this article, you get familiar with the most beautiful and latest bathroom remodeling ideas. We hope you can create a beautiful and different decoration within your home bathroom by following the example of these successful designs. Please don't hesitate to contact us if you want professional assistance in home remodeling services.
For a free quote on any remodeling project, give us a call today.