Ultimate guide to choosing the best kitchen countertops in Orange County in 2022
The kitchen countertop is one of the essential parts of the kitchen. The countertop is your desk during cooking and any other activity in the kitchen.
When cooking and preparing food, the stains of substances such as turmeric and coffee are difficult to clean and may spill on the counter, and if your counter doesn't have good quality, cleaning it might be challenging. So, choosing a high-quality countertop is especially important. There are different types of countertops, which we will introduce in this article.
In unique kitchens & baths, we've gathered a lot of construction experience, from comprehensive interior renovation to house remodeling and landscaping. We provide special offers, promotions, and Financing available with Wells Fargo for our customers.
1. Natural stone:
The best type of kitchen countertop is natural stones, which are used even in the facade of the building due to their durability and high resistance. They come in a variety of designs and colors. Install a natural stone countertop needs specialized people because the weight of these stones is high, and they need an excellent substructure for installation. In addition, Natural stone is a good choice for classic cabinets. Granite and marble are good choices for kitchen countertops.
Granite kitchen countertops
The use of Granite on the kitchen counter is prevalent due to its naturalness, beauty, and variety. Despite its beauty and elegance, Granite is heat resistant, anti-scratch, anti-fungal, and anti-mold. These features have caused them to be considered among the best materials for countertops.
Marble kitchen countertops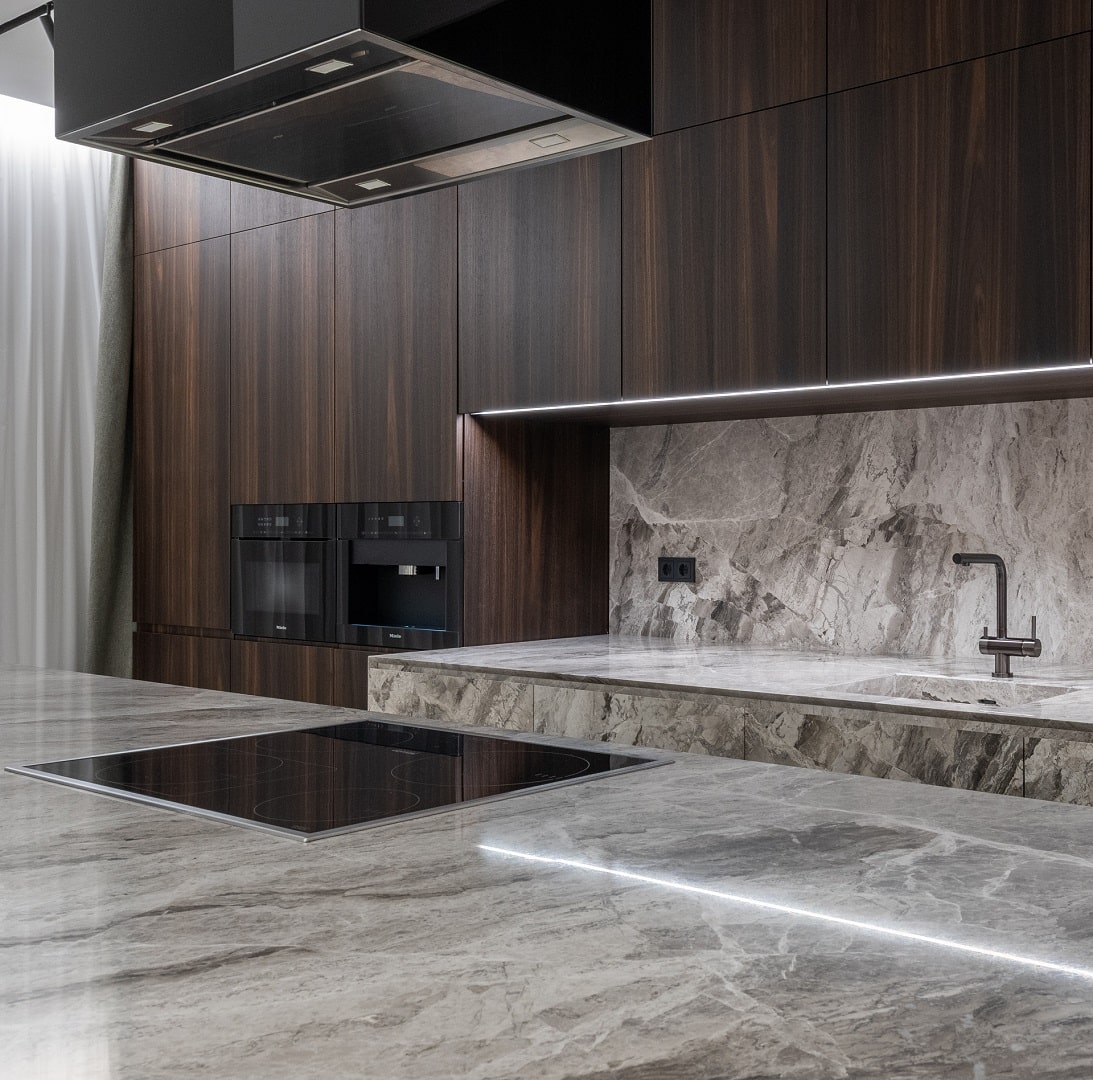 The use of marble for the kitchen countertop gives the kitchen a unique radiance and beauty. But it should note that this delicacy can clearly show any scratches and damage, so you must be careful in using it.
2. Korin kitchen countertops:
Another type of material for countertops is Korin stone. This artificial stone is one of quartz's most common and essential competitors in making countertops on kitchen counters. The scratch resistance of this stone is less than quartz.
However, due to its artificiality, Korin stone has a very high color variation. But installing quartz is a little more complicated. One of the essential advantages of this product is its lightweight compared to quartz stone. In addition, Korin is waterproof but not resistant to scratches, and also the effects of stains remain on it and are not antibacterial.
3. Quartz kitchen countertops: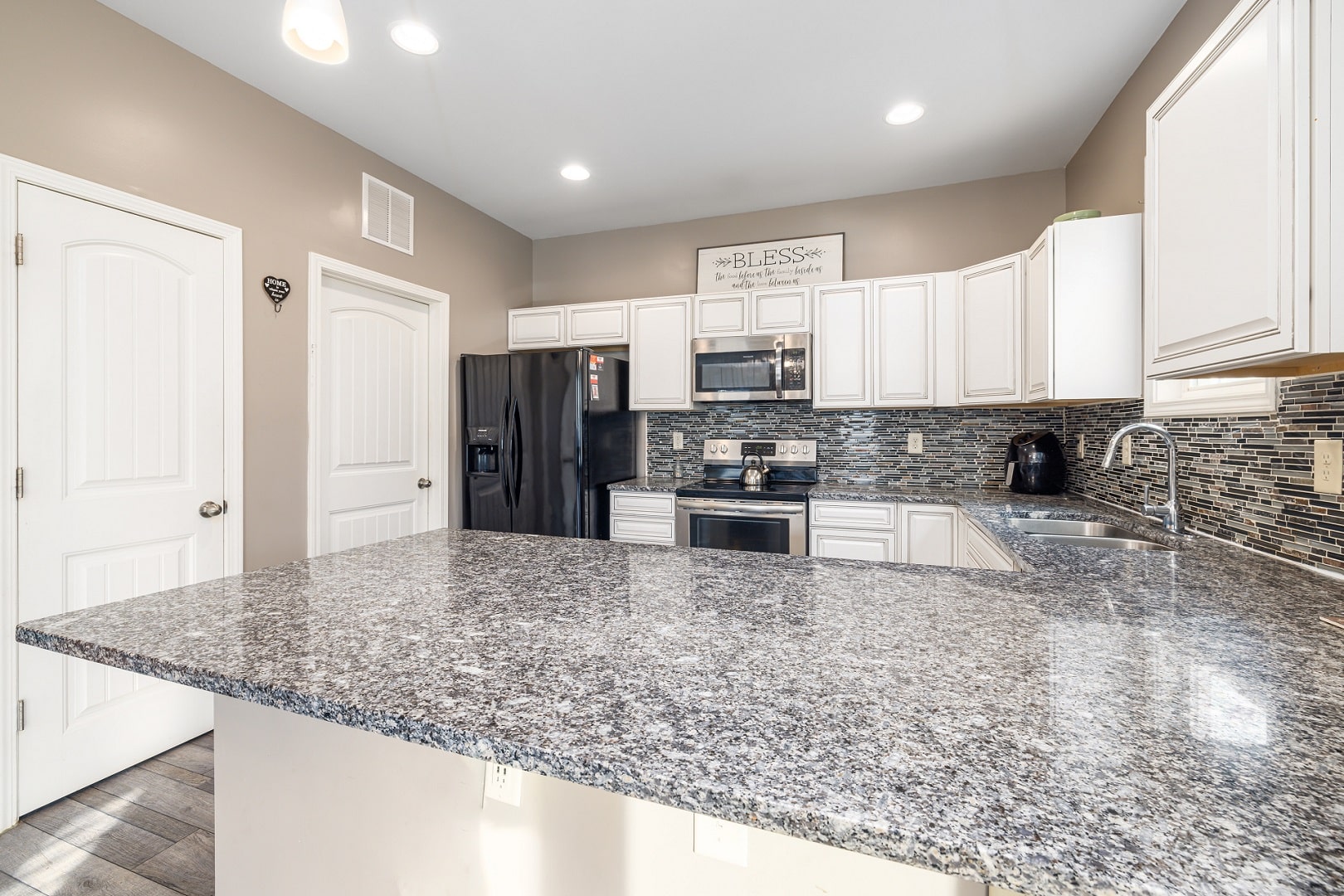 Quartz kitchen countertops are another artificial stone that accepts fewer scratches than Korin, is antibacterial, and can be a perfect choice for your countertop.
Other features of quartz include heat insulation and waterproofing, available in different designs and colors. This type of stone has much higher durability than Granite and is considered one of the best kitchen cabinet stones. Quartz is also very popular due to its smooth and impenetrable surface. Quartz stones have a smooth, shiny, uniform appearance and beautiful veins. The scratch resistance of quartz plates is another positive feature with a higher price.
This anti-stain, anti-scratch, and antibacterial stone are easier to maintain than other synthetic and natural stones because they do not require any detergent and are enough to clean their surface with a little water and soap. This important feature has made quartz popular despite its high price.
4.ceramic kitchen countertops:
If you are looking for a countertop with high strength and affordable price, you can use a ceramic counter. Ceramic has a durable surface, but it is not easy to clean, so if you do not have the time and patience to clean it, do not go for it. You can also use ceramics with a unique pattern for the countertop.
Ceramic countertops are an old and traditional idea in kitchens that may seem appealing to many people. This type of material has a very high resistance to heat. But ceramic has low stain resistance. With all the positive features, you cannot take your eyes off the negative elements, such as non-uniform and discontinuous surfaces and the possibility of blurring and scratching.
5. HPL kitchen countertops:
HPL panels are made of MDF core and wood veneer and do not have high resistance to scratches and moisture, so they are not a good choice for countertops. This kitchen cabinet plate is in the category of the cheapest kitchen counter plate for cabinets.
6. Concrete kitchen countertops: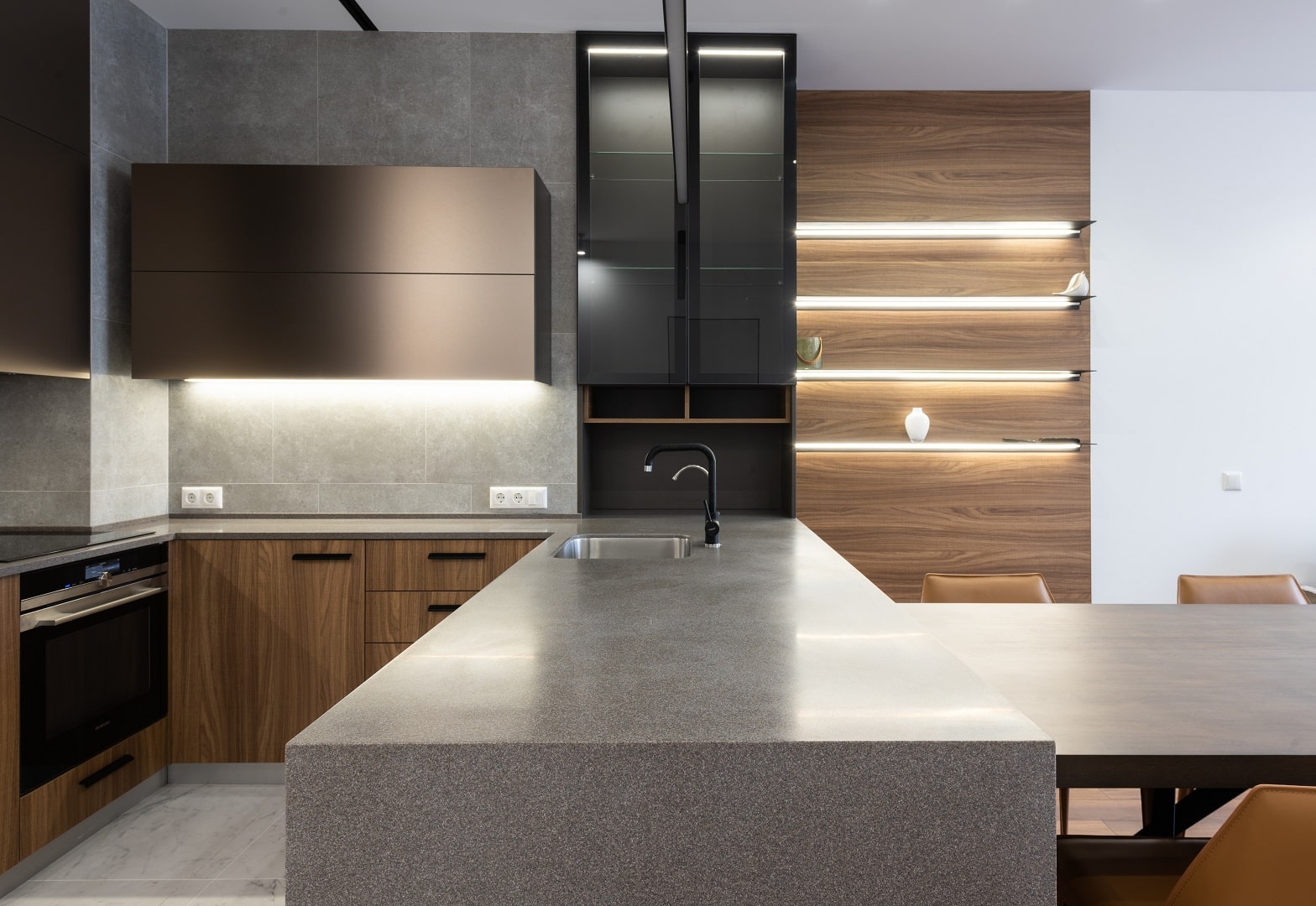 Concrete is one of the newest types of countertops, which can be used with various colors by adding pigment. And with concrete, you will have a modern and unique kitchen. Concrete is usually used as a counter and stylish cabinets and is not used in the classic style. You can also use concrete to make your countertop and island different shapes.
7. Wooden kitchen countertops: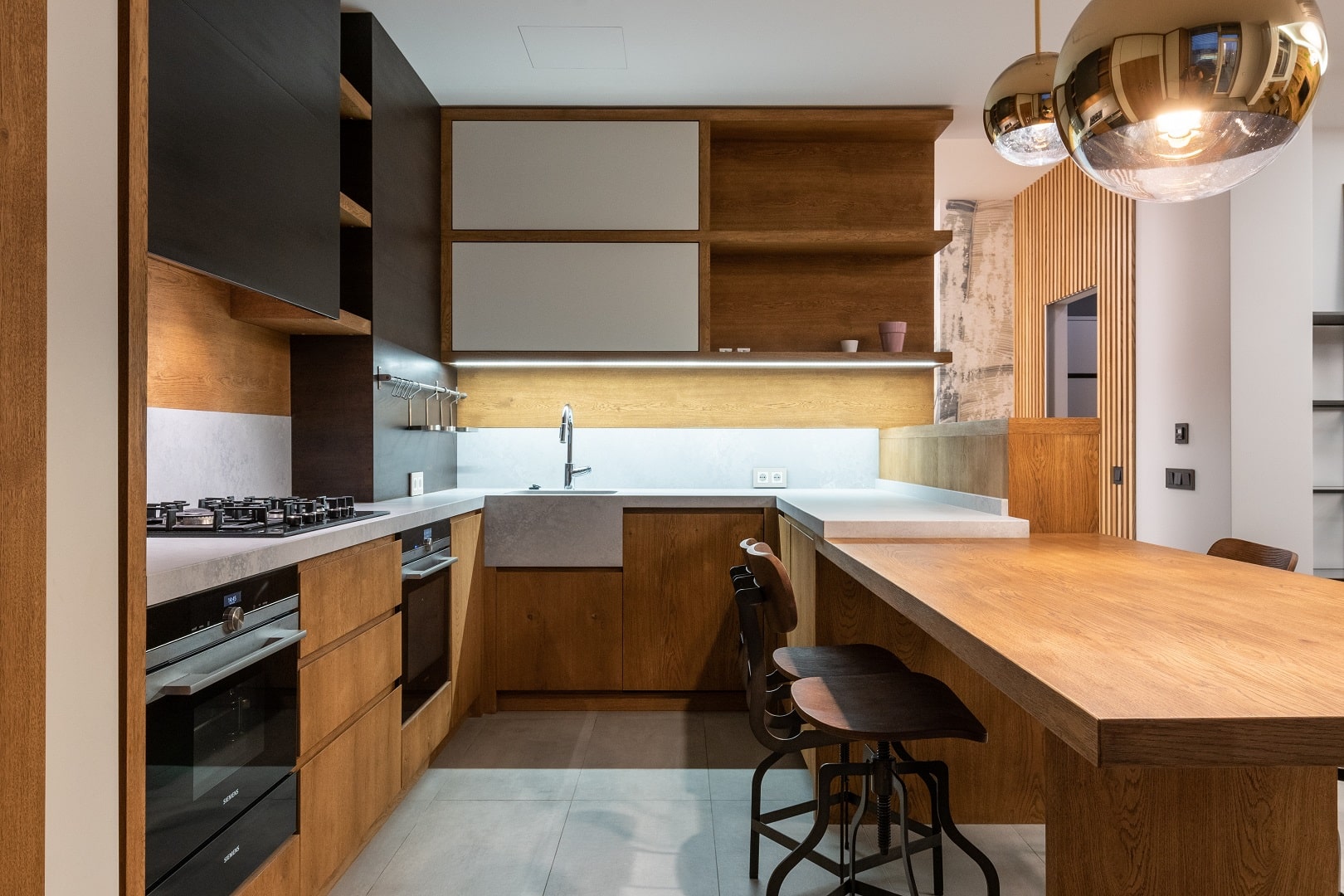 One of the oldest kitchen countertops is wooden. The wooden plates on the counter are made of walnut and oak wood and look like chopping boards. Due to these woods' antibacterial and natural nature, you can easily use these plates to saute food. In addition, this type of material for the countertop will be one of the most suitable materials for all types of all-wood cabinets.
If you cook a lot in your kitchen, these countertops are unsuitable. Unlike they are made of wood and give your kitchen a very luxurious and beautiful look, they do not have high resistance and are not suitable for everyday use.
IN CONCLUSION:
As mentioned before, the countertop is vulnerable. Besides beauty and appearance, you should pay special attention to the quality and durability of the countertop. When buying a kitchen cabinet, be sure to choose a helpful countertop. At Unique Kitchen & Baths, we provide you with some tips about selecting the best kitchen countertops. For more information, you can contact us. Our Designers and experts can offer you the best design ideas according to your needs.
Get a free estimate, contact us today.